By Ryann Kennedy, www.ryannkennedyhomes.com
________________________________
Outdoor kitchens are becoming increasingly popular, and even essential, as luxury homeowners look for ways to extend their living space and entertain guests outdoors. And with the ever-changing trends in home design, there are always new and exciting ways to create an outdoor kitchen that is both stylish and functional.  "Outdoor luxury kitchens are a high growth category," according to a new study just published this month by the National Kitchen & Bath Association.  The desire for luxury outdoor living grew in popularity during the pandemic as spending time at home and wanting to entertain within an outdoor space became more popular.
Here are some of the latest trends in outdoor kitchen design:
Built-In and Smart Appliances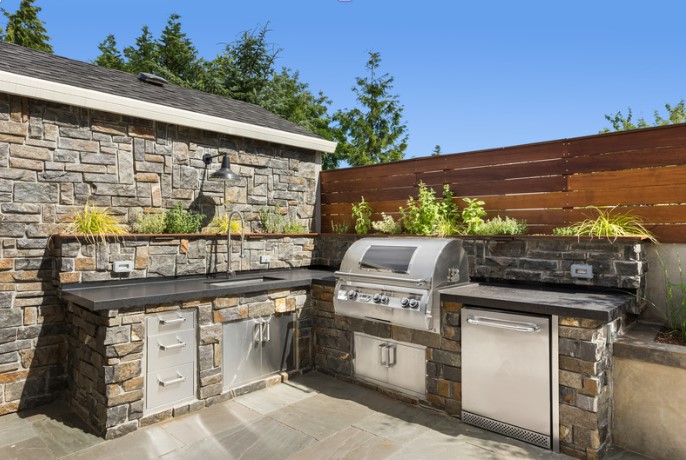 Built-in appliances are another popular trend in outdoor kitchen design. These appliances offer a sleek and seamless look, and they can also save space. Some popular built-in appliances for outdoor kitchens include grills, refrigerators, and ovens.
Smart appliances are becoming increasingly popular in all areas of the home, and outdoor kitchens are no exception. These appliances can be controlled with a smartphone or tablet, making it easy to adjust the temperature on the grill or turn on the oven from inside the house.
Multipurpose Outdoor Spaces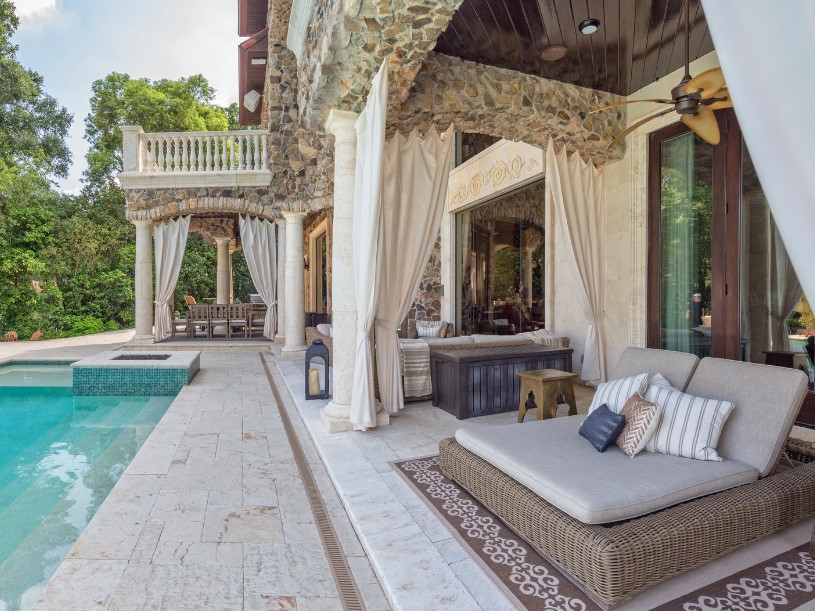 Designing versatile areas that can be used for dining, entertaining, and relaxing.  This can include separate areas around a pool or under a covered area.
Smart Outdoor Lighting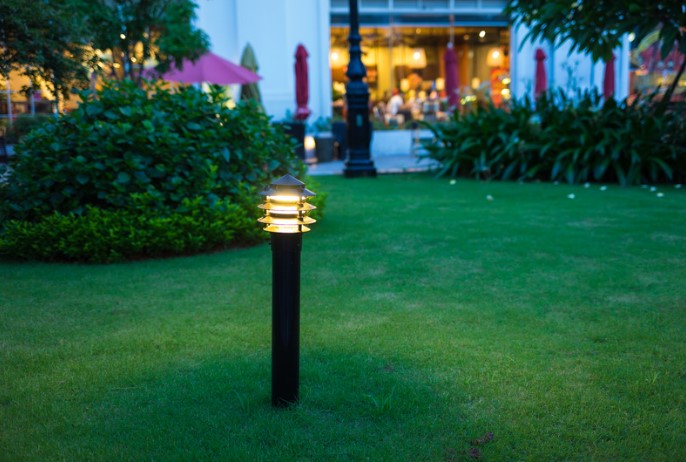 Outdoor lighting is an important part of any outdoor kitchen, as it can help to create a warm and inviting atmosphere. Energy-efficient, customizable lighting options that enhance safety and aesthetics are the most desirable options.
Outdoor Furniture and Rugs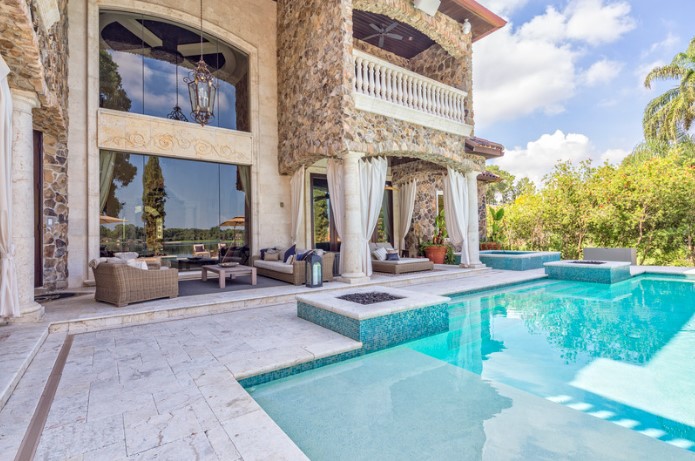 Comfortable, durable outdoor furniture: Investing in stylish, high-quality seating and tables that withstand the elements.  Outdoor rugs can add a touch of style and comfort to any outdoor living area or kitchen.
Modern fire pits and outdoor fireplaces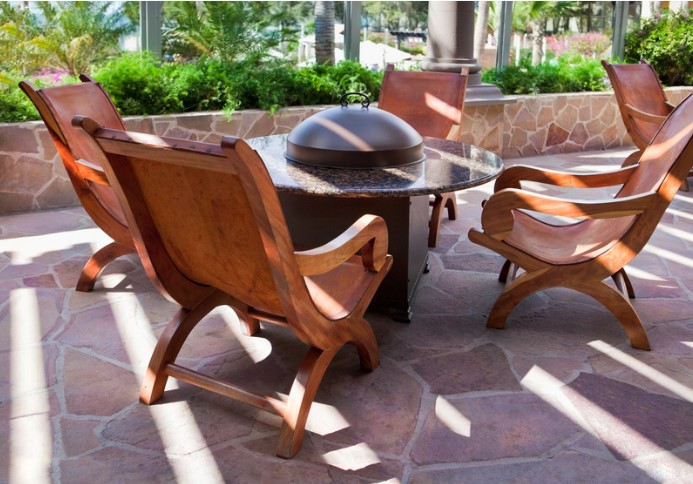 Adding warmth, ambiance, and extended use of outdoor spaces during cooler evenings.
Outdoor Plants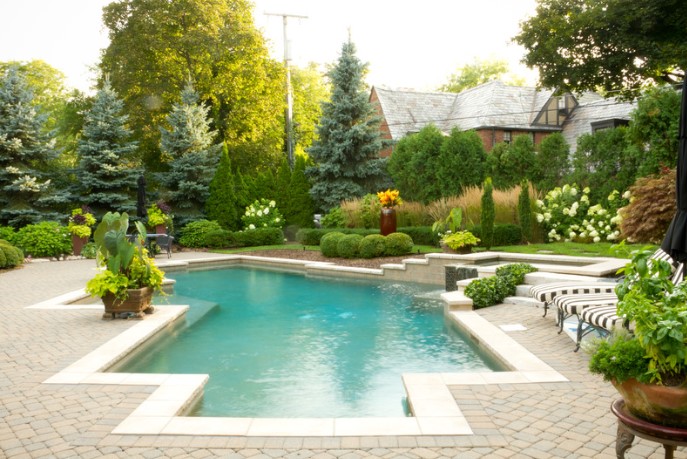 Outdoor plants can add a touch of beauty and greenery to any outdoor kitchen. They can also help to screen the kitchen from the view of neighbors.  Also consider sustainable and eco-friendly landscaping including rainwater collection systems.
Sound and Entertainment System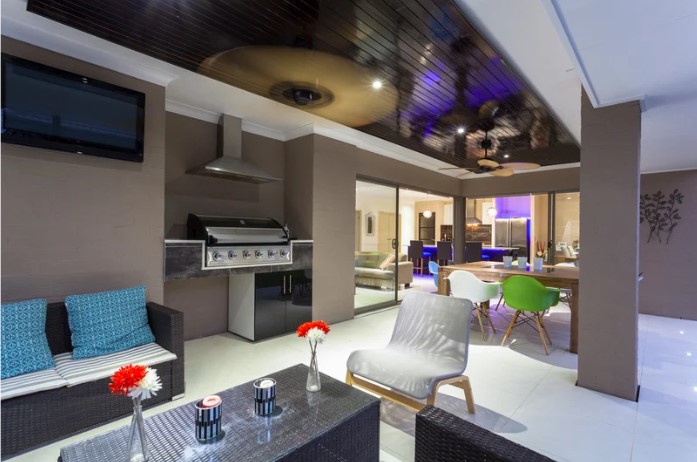 An outdoor sound system can help to create a more festive atmosphere in your outdoor kitchen. Bringing music, movies, and other entertainment options to outdoor living spaces is essential for outdoor entertaining.
Play Areas and Sports Courts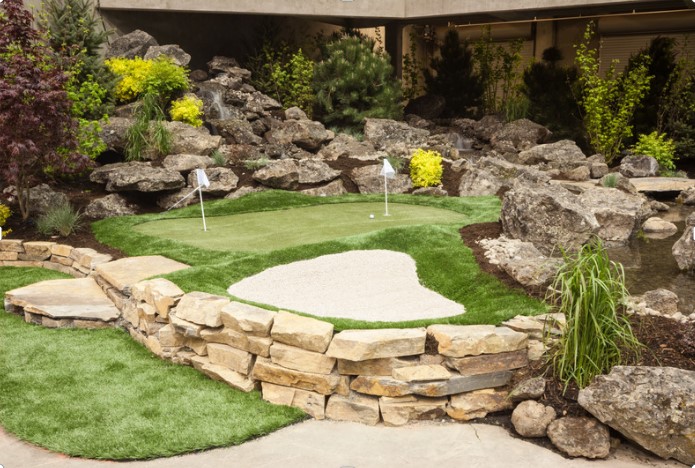 Designing spaces for active outdoor play, including basketball courts, bocce ball, horseshoe pits, or even putting greens
These are just a few of the latest trends in outdoor kitchen design. With so many options available, there is sure to be a trend that is perfect for every homeowner.
Here are some additional tips for designing an outdoor kitchen and living space:
Consider your lifestyle. What do you like to cook? How often do you entertain? These factors will help you determine the size and features of your outdoor kitchen.
Choose the right location. The ideal location for an outdoor kitchen is in a sunny spot that is protected from the wind.
Make sure the space is functional. You'll need enough space for a grill, a sink, a refrigerator, and a work surface.
Don't forget the details. Add some personality to your outdoor kitchen with stylish lighting, furniture, and plants.